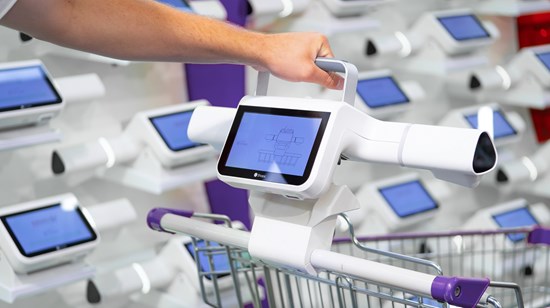 Shopic's Smart Cart Solution Highlighted by Microsoft at EuroShop 2023
Tel Aviv, Israel–(Newsfile Corp. – February 27, 2023) – Israeli startup Shopic is displaying its cutting-edge smart cart solution at the prestigious EuroShop conference as part of the Microsoft booth (Hall 6, Booth G24). Taking place in Dusseldorf, Germany, from February 26 to March 2, Microsoft is showcasing a select number of its Microsoft Cloud for Retail partners, including Shopic.
Attaching Shopic's clip-on device to a shopping cart
To view an enhanced version of this graphic, please visit:
http://images.newsfilecorp.com/files/8506/156245_d1a92ad474a37b19_001full.jpg
Visitors to the Microsoft booth at EuroShop can try out Shopic's touchscreen device in a demo supermarket environment and experience the technology for themselves. Among other team members, Shopic CEO and co-founder Raz Golan will also be on hand to answer questions and respond to inquiries.
"We're delighted that the team at Microsoft has selected our solution as one of its retail tech partners to highlight at EuroShop," said Golan. "We see it as an affirmation of our team's hard work in bringing the Shopic smart cart solution to market, and an opportunity to introduce Shopic to many more retailers looking to improve customer experience and enable seamless purchase journeys."
Shopic's solution employs artificial intelligence (AI) to power computer vision algorithms that identify every item as it is placed in the grocery cart, no matter what angle it's at, removing the need for shoppers to self-scan. Unlike other smart cart solutions, which come built in to specialty carts, Shopic offers a clip-on device that shoppers can easily attach to any standard grocery cart. This way, retailers can continue to use their existing fleet, cutting time to deployment and reducing investment in expensive infrastructure.
The screen displays cart contents and a running price total in real time, informs the shopper about relevant promotions, and enables frictionless self-service checkout. In this manner, Shopic empowers grocers to improve customer experience, to differentiate themselves from competitors with minimal risk, and to develop a new revenue channel with their own retail media offering.
"Grocers around the world are struggling with the same challenge: how to deliver friction-free self-service checkout without adding new obstacles and without over-complicating the customer journey," said ShiSh Shridhar, worldwide retail lead, Microsoft for Startups. "In the race to develop reliable, accurate smart cart solutions that improve the retail customer experience for grocery stores, Shopic is one of the leaders in the field, and we're pleased to showcase them as a Microsoft for Startups retail partner."
Shopic arrives at EuroShop after a year of expansion and growth, having doubled its employee count to 80 and having raised $35 million in venture capital investments through a successful Series B funding round. The company is currently piloting deployments with some of North and South America's leading retailers. Already in extensive use in Shufersal grocery stores, Israel's leading supermarket chain, Shopic has proven its effectiveness, boosting basket size by 78% and monthly spending by 8%.
EuroShop is the world's leading retail trade fair, with over 1,700 exhibitors from 56 nations taking part in the five-day event in Dusseldorf, Germany. Shopic can be found at the Microsoft booth G24, Hall 6, throughout the event.
About Shopic
Shopic provides smart cart and store digitalization solutions to the world's leading grocers, bringing the advantages of online commerce to their physical stores. The company's computer vision-based clip-on device turns any regular shopping cart into a smart cart. It delivers a smooth shopping experience, instant on-cart checkout, just-in-time personalized promotions, and analytical insights from the retail floor. Founded in 2015, Shopic is headquartered in Tel Aviv, Israel. For more information, visit Shopic.co.
Media Contact:
Dan Edelstein
pr@marketacross.com
To view the source version of this press release, please visit http://www.newsfilecorp.com/release/156245