LBank Exchange Will List WiBX Utility Token (WBX) on February 20, 2023
Road Town, British Virgin Islands–(Newsfile Corp. – February 18, 2023) – LBank Exchange, a global digital asset trading platform, will list WiBX Utility Token (WBX) on February 20, 2023. For all users of LBank Exchange, the WBX/USDT trading pair will be officially available for trading at 12:00 UTC on February 20, 2023.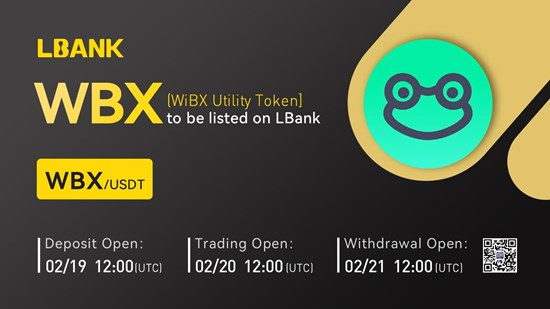 WBX Listing Banner
To view an enhanced version of this graphic, please visit:
https://images.newsfilecorp.com/files/8831/155207_fa80a8d274bdc913_001full.jpg
Utilizing the power of blockchain technology, WiBX is here to revolutionize the contact between brands and their customers through referral marketing. Its native token WiBX Utility Token (WBX) will be listed on LBank Exchange at 12:00 UTC on February 20, 2023, to further expand its global reach and help it achieve its vision.
Introducing WiBX
WiBX is a platform where companies expand their sales and customers become nano-influencers, accumulating digital coins for purchase or investments. Its purpose is to bring a new concept of technology to the community, with a focus on online promotion and commerce. Through its business platform, WiBX gains advantages for everyone: both individuals and companies.
For individuals, they can recommend products and services on their social networks and get paid for it by downloading WiBX app and following the step by step to share the ads of their favorite brands. Every like or share can be converted into WiBX digital coins in their accounts.
For companies, by registering a campaign on WiBX platform, they can have more reach and gain more consumers with the recurring disclosure made by their own customers. Companies simply need to open their stores on WiBX platform and create their advertising campaigns to make the ads available.
Between 2019 and 2021, more than 3 million people engaged in campaigns for brands registered on WiBX platform. These campaigns are parameterized by loyalty – not clicks. By sharing their favorite brands on their social networks, customers become loyal to them.
Simply put, WiBX is here to decentralize advertising by allowing customer engagement to benefit their favorite brands to generate rewards in the token that can be used by these customers to purchase products that they themselves helped to publicize.
Additionally, through gamification and metaverse, WiBX is adding to the construction of the way people will interact with the phygital world, and it will also impact the way money will be transacted in the future. WiBX supports great solid projects for the new era of Web3 revolution, brands can insert themselves into the metaverse through gamified activations, understand their communications, create new ways of interacting with consumers and expanding their customer base. Furthermore, WiBX token can be used both within the metaverse and in the physical world to carry out secure and fast financial transactions without the need for financial intermediaries.
About WBX Token
WiBX Utility Token (WBX) is the native token of WiBX ecosystem, it can be used to make transactions and payments in WiBX's metaverse and games, exchange for fiats and other digital currencies, and purchase products or services in WiBX's mall.
Based on ERC-20, WBX has a total supply of 12 billion (i.e., 12,000,000,000) tokens, of which 28% is provided for private sale and ICO events, 37% will be sold to retailers, stores, brands, industries, and advertising agencies in order to promote the digital engagement with their customers and the cryptocurrency usability in the ecosystem, 8% will be used for marketing, 9% is allocated to the founding partners, 6% is allocated to the development team, 4% is provided for advisors, and the remaining 8% is reserved.
WBX token will be listed on LBank Exchange at 12:00 UTC on February 20, 2023, investors who are interested in the WiBX investment can easily buy and sell WBX token on LBank Exchange by then. 
Learn More about WBX Token:
Official Website: https://www.wibx.io/
Telegram: https://t.me/wibxinternational
Twitter: https://twitter.com/wibx_oficial
Instagram: https://www.instagram.com/wibx_oficial/
Facebook: https://www.facebook.com/wibx.oficial
YouTube: https://www.youtube.com/@WibooOficial/
About LBank
LBank is one of the top crypto exchanges, established in 2015. It offers specialized financial derivatives, expert asset management services, and safe crypto trading to its users. The platform holds over 9 million users from more than 210 regions across the world. LBank is a cutting-edge growing platform that ensures the integrity of users' funds and aims to contribute the global adoption of cryptocurrencies.
Start Trading Now: lbank.com
Community & Social Media:
l Telegram
l Twitter
l Facebook
l LinkedIn
l YouTube
Contact Details:
LBK Blockchain Co. Limited
LBank Exchange
[email protected]
[email protected]

To view the source version of this press release, please visit https://www.newsfilecorp.com/release/155207