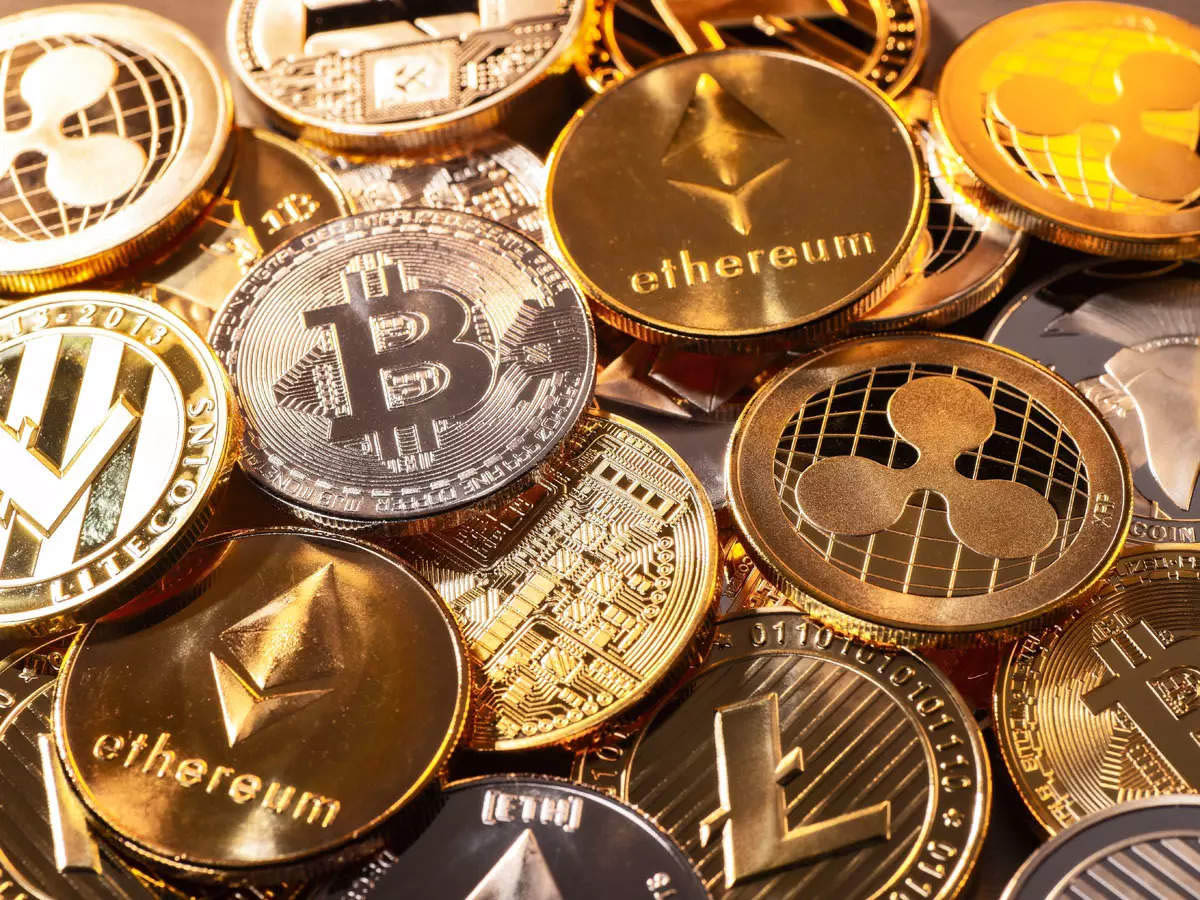 GlobaleCrypto Launches Next-Gen Bitcoin Cloud Mining Platform
LONDON, ENGLAND, Nov. 16, 2023 (GLOBE NEWSWIRE) — In an exciting development for the cryptocurrency sector, GlobaleCrypto is proud to unveil its state-of-the-art cloud mining services. As Bitcoin continues to dominate the digital age, GlobaleCrypto is on a mission to facilitate easy, secure, and lucrative Bitcoin mining opportunities for enthusiasts worldwide.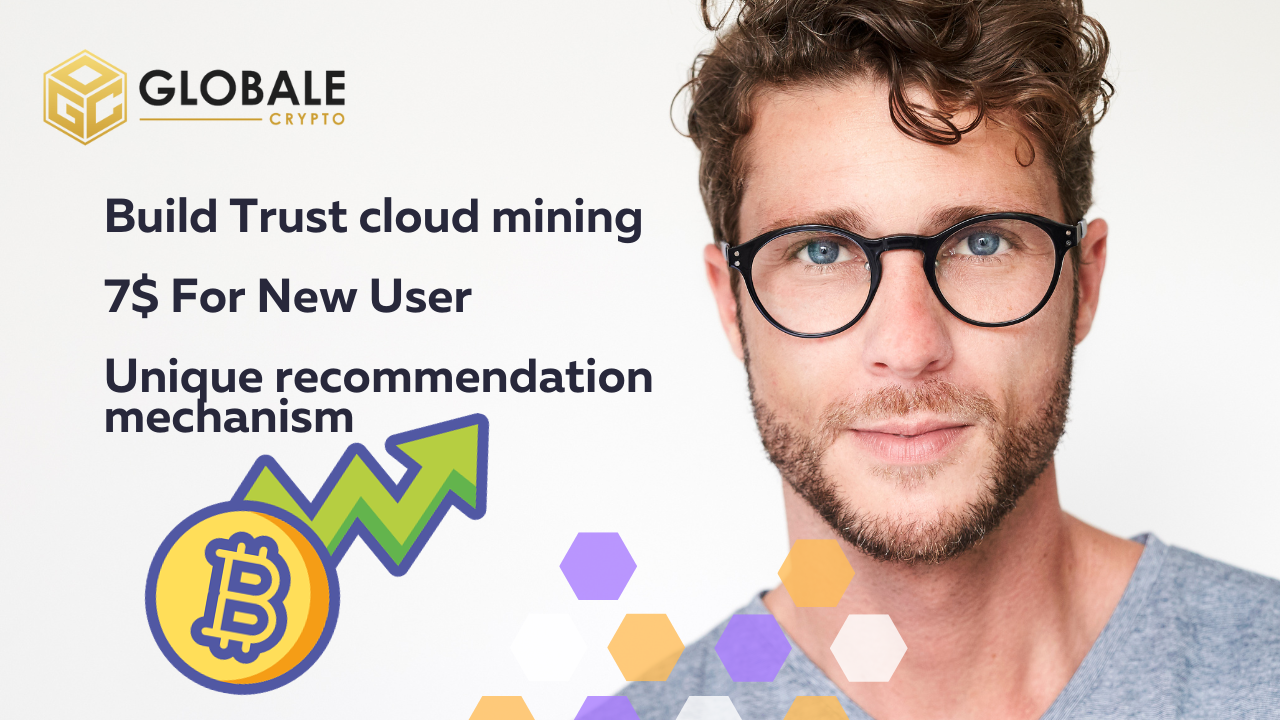 Revolutionizing Bitcoin Mining Access
Traditionally, Bitcoin mining has been an arena of significant hardware investments, technical know-how, and high energy demands. GlobaleCrypto is transforming this landscape by offering cloud mining solutions, effectively removing these barriers and opening doors for widespread participation in Bitcoin mining.
Varied and Advanced Service Offerings
GlobaleCrypto distinguishes itself with a versatile array of intelligent and stable hash rate services. Its multifaceted business approach, which includes cloud mining, miner hosting, and direct mining, deftly adapts to the fluctuations of the market. This approach facilitates a comprehensive integration into the global digital asset mining sector.
Top-Tier Mining Equipment with Varied Capabilities
GlobaleCrypto's edge lies in its selection of premium mining machines, which are more than just assets; they are potent tools providing varied opportunities across different plans:
The Bitcoin Antminer S19 PRO Hyd, with a daily mining capacity of $7.21 for single-day use, is notable for its exceptional mining efficiency.
The Bitcoin Antminer S19 XP is recognized for its energy efficiency and steady output, offering a $51 return over several days.
Catering to newcomers, the Bitcoin Avalon-1366 promises a daily mining capacity of $53.50 across a week.
For intermediate users, the Bitcoin Whatsminer M50S 130T provides an $83.02 daily potential for a 15-day period.
The Bitcoin Avalon-1366I, merging energy efficiency with reliable performance, offers a $119.12 daily potential for 30 days.
The Bitcoin Antminer S19j XP, known for its high efficiency and profitability, can yield $315 over a month.
The Bitcoin Antminer S19 PRO HYD, with a 30-day potential of $684, stands out for its energy-efficient and consistent monthly performance.
Ideal for investors, the Bitcoin Antminer S19 XP HYD offers a 42-day earning potential of $41916.
Over a 60-day period, the Bitcoin Antminer S19 XP HYD promises high efficiency and profitability, with a potential return of $12060.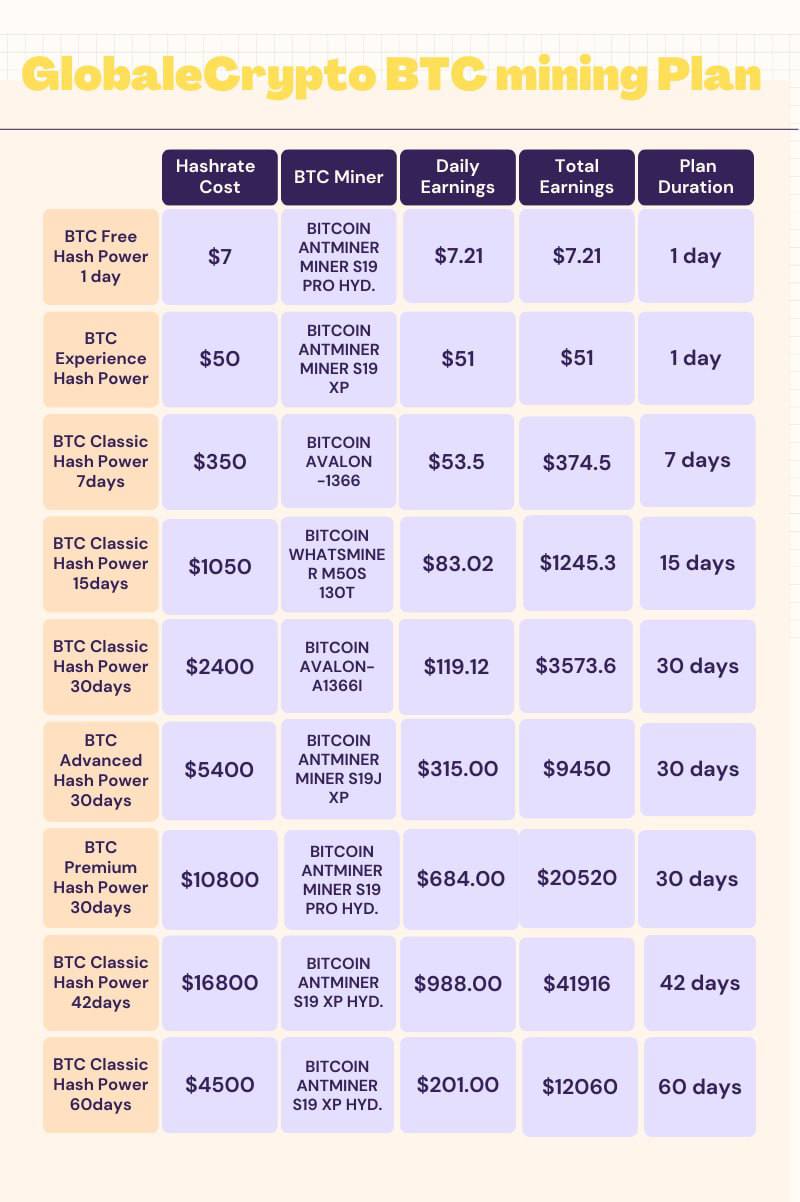 Enhanced Mining Profits
GlobaleCrypto's cloud mining service operates as a dynamic reward system. The user who made the transaction, More people can enjoy higher computing power and mining profits. Super computing power can earn about 988 USDT every day, and there is potential for substantial growth.
Uncompromised Security and Reliability
Security of funds is paramount for GlobaleCrypto, with over 95% of assets safeguarded in cold storage to drastically reduce theft risk. Regular security assessments are conducted to identify and address any vulnerabilities. The platform also incorporates DDoS protection for continuous access during network attacks and offers two-factor authentication (2FA) for additional security.
A Trailblazer in Cryptocurrency
GlobaleCrypto goes beyond being just a cloud mining provider; it's a trailblazer in the digital asset domain, committed to enabling individuals to engage in the digital asset revolution. With investment plans starting from as low as $7, GlobaleCrypto paves the way to steady profits and strong security in Bitcoin mining.
Embrace the Bitcoin Revolution with GlobaleCrypto
Now is an opportune moment for Bitcoin enthusiasts to dive into innovative BTC acquisition methods, and GlobaleCrypto is at the forefront. Discover the next generation of Bitcoin mining with GlobaleCrypto's advanced solutions.
Media Contact Information:
Zack Rios
Email: business@globalecrypto.com
Website: https://GlobaleCrypto.com
About GlobaleCrypto:
GlobaleCrypto is an expanding entity in the realm of digital asset and cloud mining services, committed to empowering users to enhance their crypto portfolios by simplifying the crypto mining process.
Disclaimer: The information provided in this press release is not a solicitation for investment, or intended as investment advice, financial advice, or trading advice. It is strongly recommended that you practice due diligence (including consultation with a professional financial advisor) before investing in or trading securities and cryptocurrency.
CONTACT: Zack Rios
Crypto Mining Services Limited
support at globalecrypto.com