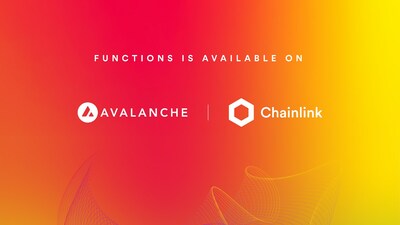 Chainlink Functions Is Now Live on Avalanche Fuji Testnet, Helping Bring the World's APIs to Web3
The beta release of Chainlink Functions on Avalanche will help anyone to easily connect a smart contract to any Web2 API
BARCELONA, Spain, May 5, 2023 /PRNewswire/ — Ava Labs, today announced the beta release of Chainlink Functions—a serverless developer platform that empowers anyone to easily connect a smart contract to any Web2 API—on Avalanche Fuji testnet. Developers on Avalanche can now leverage Chainlink's highly secure and reliable network to seamlessly build new and more advanced Web3 applications.
Chainlink Functions unlocks an entirely new frontier of Web3 and Web2 integrations. Until now, Web3 developers couldn't connect their smart contracts to existing Web2 APIs to access social media signals, AI computation, messaging services, and more. Conversely, Web2 developers couldn't leverage their existing infrastructure when getting started building a Web3 app. Chainlink Functions provides this key piece of missing infrastructure developers need to build sophisticated applications that take advantage of the best of both worlds.
"The integration of Chainlink Functions unlocks a multitude of new and exciting smart contract use cases for the Avalanche ecosystem as it simplifies the developer experience of connecting Web3 apps with Web2 data sources," said John Nahas, Vice President of Business Development at Ava Labs. "Developers can now connect their smart contract to any Web2 API in minutes to unlock the next big use case for Web3 while taking advantage of both the proven security and reliability of the Chainlink Network."
Chainlink Functions acts as a decentralized compute runtime to test, simulate, and run custom logic off-chain for Web3 applications—akin to a more trust-minimized and blockchain-enabled version of existing cloud-based serverless solutions such as AWS Lambda, GCP CloudFunctions, and Cloudflare Workers. By taking advantage of the blockchain industry's most time-tested infrastructure for oracle connectivity and computation, developers can focus on their decentralized applications while being able to rely on the connectivity, security, and reliability of the Chainlink Network. Furthermore, Chainlink Functions is a truly self-serve platform, meaning developers can fulfill their external data and compute needs without having to interface with node operators.
"We're excited to expand the suite of Web3 services available on Avalanche to include Chainlink Functions, empowering Avalanche developers to connect their smart contracts to existing Web2 APIs," said Kemal El Moujahid, Chief Product Officer at Chainlink Labs. "The seamless connectivity of Chainlink Functions makes it easy for developers to combine smart contracts with powerful Web2 APIs and data sources to unlock a new frontier of exciting capabilities and applications."
Smart contract developers building on Avalanche can now use Chainlink Functions to easily connect Web2 APIs and cloud services in their smart contracts. Chainlink Functions can also be combined with other high-quality Chainlink services available on Avalanche, including Chainlink Data Feeds, Chainlink VRF, and Chainlink Automation.
If you're a developer and would like to access the beta version of Chainlink Functions, sign up here. Also, check out the Chainlink Functions developer documentation and join the Chainlink Discord for any technical questions or feedback.
About Chainlink
Chainlink is the industry-standard Web3 services platform and has enabled trillions of dollars in transaction volume across DeFi, insurance, gaming, NFTs, and other major industries. As the leading decentralized oracle network, Chainlink enables developers to build feature-rich Web3 applications with seamless access to real-world data and off-chain computation across any blockchain and provides global enterprises with a universal gateway to all blockchains.
Learn more about Chainlink by visiting chain.link or reading the developer documentation at docs.chain.link. To discuss an integration, reach out to an expert.
About Ava Labs
Ava Labs makes it simple to launch decentralized finance applications on Avalanche, the fastest smart contracts platform in the blockchain industry. We are empowering people to easily and freely digitize all the world's assets on one open, programmable blockchain platform.
Ava Labs was founded by Cornell computer scientists who brought on talent from Wall Street to execute their vision. The company has received funding from Andreessen Horowitz, Initialized Capital, and Polychain Capital, with angel investments from Balaji Srinivasan and Naval Ravikant.
About Avalanche
Avalanche is a smart contracts platform built to scale infinitely and finalize transactions in under a second. Avalanche is blazingly fast, low cost, and eco-friendly. Build anything you want, any way you want, on a blockchain designed for both Web3 devs and businesses. Don't believe it? Try an app on Avalanche today.
View original content to download multimedia:http://www.prnewswire.com/news-releases/chainlink-functions-is-now-live-on-avalanche-fuji-testnet-helping-bring-the-worlds-apis-to-web3-301816393.html
SOURCE Chainlink; Ava Labs