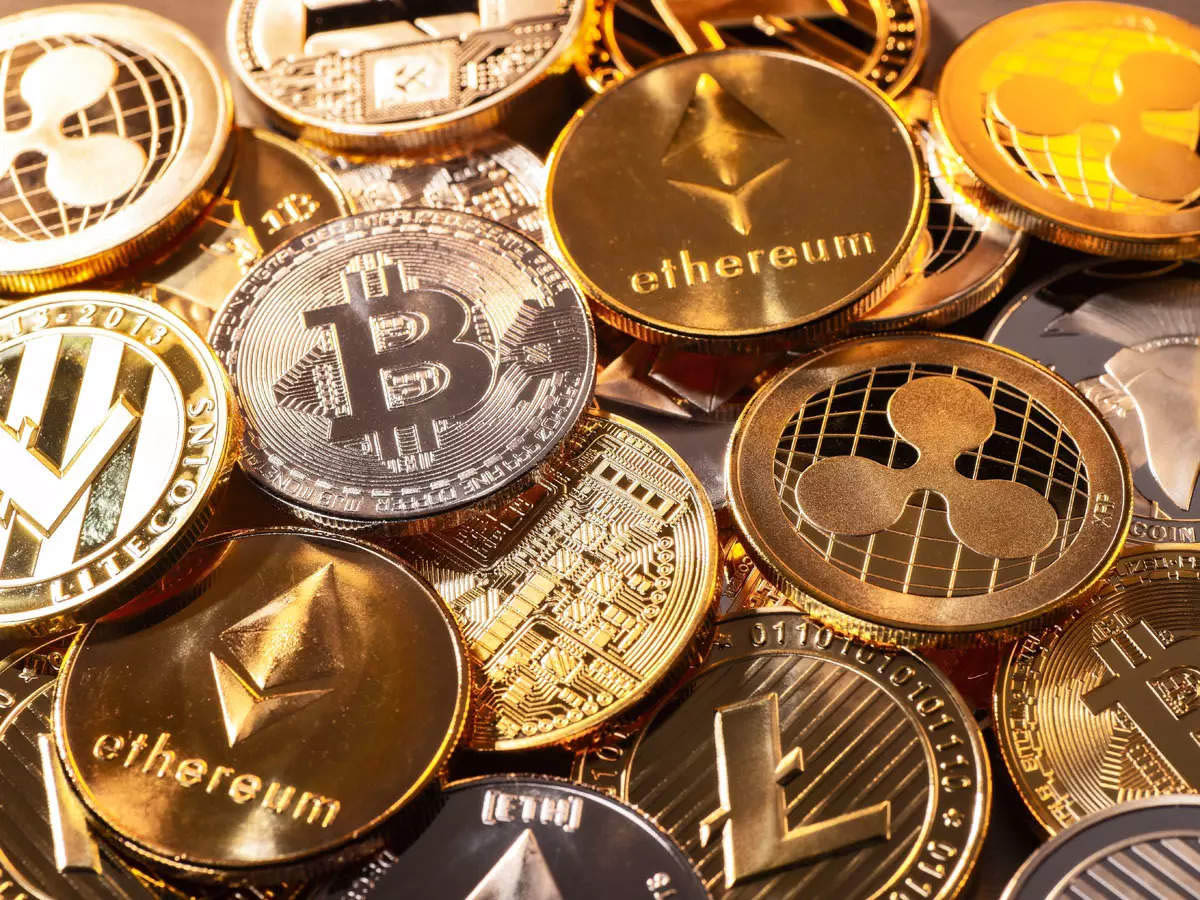 Bitcoin Well Reports 2022 Financial Results and Announces Closing of Secured Debenture
EDMONTON, Alberta, Feb. 16, 2023 (GLOBE NEWSWIRE) — Bitcoin Well Inc. ("Bitcoin Well" or the "Company") (TSXV:BTCW; OTCQB:BCNWF), the non-custodial fintech business which future-proofs money by making bitcoin useful to everyday people, today announced financial and operating results for the fourth quarter and twelve months ended December 31, 2022. The Company also announced the closing of a secured convertible debenture (the "Convertible Debenture") in the principal amount of $0.7 million on February 16, 2023. Bitcoin Well has a network of over 260 Bitcoin ATMs, an online product which allows Canadians to buy and sell bitcoin in Canada instantly and a Personal Service team which offers an education focused experience to individuals looking to make their bitcoin journey easy and convenient. All dollar amounts specified are in Canadian Dollars unless otherwise indicated.
Key highlights
Over 2,500 unique users in the Online Portal

Associated Online monthly revenues exceeding $190,000 and growing rapidly.

Revenue of $67 million in 2022, compared to normalized revenue of $77 million in 2021.

Normalized revenue in 2021 excludes a non recurring single transaction in the amount of $22 million

Revenue in Q4 2022 was $18.3 million, compared to revenue of $14.4 million in Q4 2021.
Gross margin of 7% in 2022, compared to 5% in 2021
Adjusted EBITDA of negative $0.2 million in Q4 2022, compared to negative $2.3 million in Q4 2021.
Recent business developments
Expanded personal service offering set for launch Spring 2023
3,000 unique users on the platform as of February 2023
Online revenues growing at an average of 145% MoM in Q4 2022
Financial overview
 
For the three months ended,
For the twelve months ended,
 
Dec 31, 2022
($000s)
Dec 31, 2021
($000s)
%
Change
Dec 31, 2022
($000s)
Dec 31, 2021
($000s)
%
Change
Revenue
$  18,262
$  14,411
27%
$  66,731
$  99,613
(33)%
Gross profit
$  1,216
$  968
26%
$  4,424
$  5,173
(14)%
Adjusted EBITDA1
$  (227)
$  (2,333)
90%
$  (3,471)
$  (4,353)
21%
Net loss
$  (1,852)
$  (5,372)
66%
$  (5,992)
$  (13,603)
56%
1 See Non-IFRS Measures.
The Company's Q4 2022 revenue increased to $18.2 million compared to $14.4 million in the previous year, representing an improvement of 27% year over year. Gross Profit also increased to $1.2 million in Q4 2022, compared to $0.9 million in the same time period in the prior year, an improvement of 26%. Adjusted EBITDA improved to negative $0.2 million in Q4 2022 compared to negative $2.3 million in the prior year and improvement of 90%.
In 2021 the Company recorded a one-time transaction of $22.0 million which was not expected to recur. When normalized to remove this transaction, 2021 revenue was $77.6 million. The Company has revenue of $66.7 million in 2022 representing a 14% decline over the normalized revenue in the prior year. Gross Profit was $5.1 million in 2021 and $4.4 million in 2022, representing a 14% decline year over year. This decline in revenue and gross profit is attributed to a significant decline in the sentiment of the overall bitcoin market. Notably, the Company achieved a 7% Gross Margin in 2022 compared to a 5% Gross Margin in 2021.
"The much improved financial performance seen in the latter half of 2022 is a demonstration of our effective strategy to significantly reduce costs, while maintaining strong revenues in the year," said Luke Thibodeau, CFO "We are committed to maintaining this positive financial momentum, and are excited to watch how the growth of our new online product offering creates value for our users and our investors."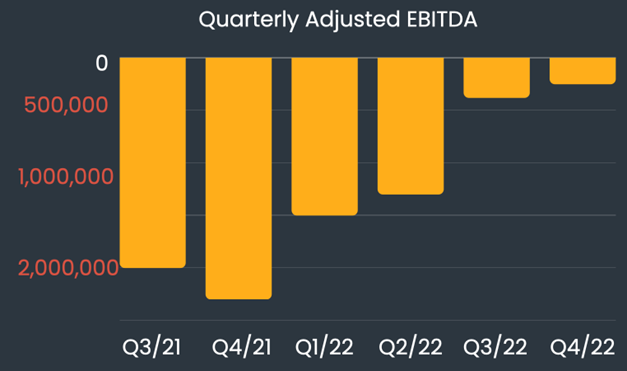 The graph represents our quarterly adjusted EBITDA over the last 6 quarters. The quarter ending in December 2022 on the right shows a significant improvement over the same period the previous year and the management team is looking for this metric to continue improving.
Convertible debenture financing
In February 2023, Bitcoin Well issued a secured convertible debenture for up to $0.7 million to refinance a portion of the existing bitcoin denominated debt.
At the option of the holder, the principal amount of the Convertible Debenture is convertible into common shares of Bitcoin Well (the "Common Shares") at a conversion price of $0.15 per Common Share, subject to TSXV review and acceptance. Bitcoin Well has the right to require the holder to convert any portion of the principal amount into Common Shares at any time where the Current Market Price of the Common Shares equals or exceeds $0.30 for a period of ten (10) consecutive Trading Days. The Convertible Debenture bears interest at a rate of 8% + Bank of Canada policy interest rate per annum and matures on February 16, 2026.
"2022 was a transformational year for Bitcoin Well. The market has forced us to find the balance between growth and sustainability and I'm very happy with the results so far. While we still have work to do, our Bitcoin ATM business unit cash flows are stable while we continue to develop and grow our hyper-scalable growth business unit. Our financial improvement in the latter half of the year is a testament to the capabilities of our team and we are marching into 2023 with more momentum than ever before." said Adam O'Brien, the Founder and CEO of the Company.
The audited consolidated financial statements, as well as Management's Discussion and Analysis ("MD&A") for the period are available on our website and at www.sedar.com.
Non-IFRS measures
The Company uses certain terms in this news release and within the MD&A, such as 'Adjusted EBITDA', which do not have a standardized or prescribed meaning under International Financial Reporting Standards (IFRS), and accordingly, these measurements may not be comparable with the calculation of similar measurements used by other companies. See the table below for a reconciliation of each non-IFRS measure to its nearest IFRS measure or refer to the "Non-GAAP Measures" and "Selected Financial Information" sections in the MD&A for applicable definitions, calculations, rationale for use and reconciliations to the most directly comparable measure under IFRS. Non-IFRS measures are provided as supplementary information by which readers may wish to consider the Company's performance but should not be relied upon for comparative or investment purposes.
Reconciliation of Adjusted EBITDA to net loss
 
For the three months ended,
For the twelve months ended,
$000s
Dec 31, 2022
Dec 31, 2021
Dec 31, 2022
Dec 31, 2021
Net loss
$  (1,852)
$  (5,372)
$  (5,992)
$  (13,603)
Fair value change – crypto loans (1)
(1,204)
512
(5,896)
4,295
Impairment (2)
–
–
3,164
1,306
Depreciation and accretion
362
580
2,160
1,384
Interest
371
–
1,122
–
Income tax expense/(recovery)
1,373
740
778
(529)
Fair value change – investments
585
–
585
–
Share based compensation
110
(42)
314
530
Gain on debt settlement
–
–
(119)
(7)
Financing fees
–
–
262
–
Bad debt allowance
–
–
94
–
Business acquisition and QT costs
–
(74)
57
793
Listing expense (3)
–
–
–
1,477
Other
28
17
–
–
Adjusted EBITDA
$  (227)
$  (2,333)
$  (3,471)
$  (4,353)
(1) Non-cash, fair value change on the revaluation of cryptocurrency loans which are more than offset by a revaluation loss on digital assets recorded in Other Comprehensive Income.
(2) Goodwill impairment and restructuring loss related Ghostlab and to the ceasing of operations in the UK (2021).
(3) Listing expenses related to taking Bitcoin Well public in 2021.
This news release should be read in concert with the full disclosure documents. The Bitcoin Well consolidated financial statements and management's discussion and analysis for the year ended December 31, 2022 will be available on the Bitcoin Well website (www.bitcoinwell.com), via SEDAR (www.sedar.com) or can be requested from the Company.
About Bitcoin Well
Bitcoin Well is in the business of future-proofing money. We do this by making bitcoin useful to everyday people to give them the convenience of modern banking and the benefits of bitcoin. Our existing Bitcoin ATM and Personal Services business unit drives cash-flow to help fund this mission.
Sign up for our newsletter and follow us on LinkedIn, Twitter, YouTube, Facebook, and Instagram to keep up to date with our business.
Bitcoin Well contact information
To book a virtual meeting with our Founder & CEO Adam O'Brien please use the following link: http://calendly.com/adamobitcoin/meet-adam
For additional investor & media information, please contact:
Tel: 1 888 711 3866
ir@bitcoinwell.com
Neither TSX Venture Exchange nor its Regulation Services Provider (as that term is defined in policies of the TSX Venture Exchange) accepts responsibility for the adequacy or accuracy of this release.
Forward-looking information 
Certain statements contained in this news release may constitute forward-looking information. Forward-looking information is often, but not always, identified by the use of words such as "anticipate", "plan", "estimate", "expect", "may", "will", "intend", "should", or the negative thereof and similar expressions. Forward-looking information involves known and unknown risks, uncertainties and other factors that may cause actual results or events to differ materially from those anticipated in such forward-looking information.
Bitcoin Well actual results could differ materially from those anticipated in this forward-looking information as a result of regulatory decisions, competitive factors in the industries in which Bitcoin Well operates, prevailing economic conditions, and other factors, many of which are beyond the control of Bitcoin Well.
Bitcoin Well believes that the expectations reflected in the forward-looking information are reasonable, but no assurance can be given that these expectations will prove to be correct and such forward-looking information should not be unduly relied upon.
Any forward-looking information contained in this news release represents Bitcoin Well expectations as of the date hereof, and is subject to change after such date. Bitcoin Well disclaims any intention or obligation to update or revise any forward-looking information whether as a result of new information, future events or otherwise, except as required by applicable securities legislation.
For more information, see the Cautionary Note Regarding Forward Looking Information found in the Bitcoin Well quarterly Management Discussion and Analysis.