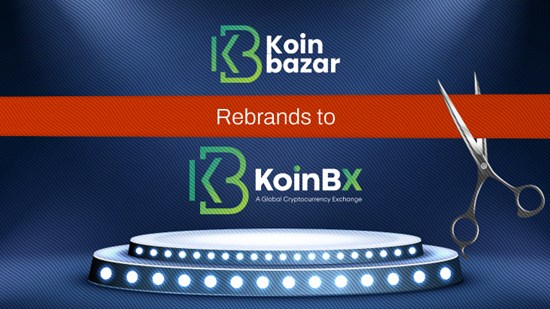 Global Crypto Exchange Koinbazar Rebranded as 'KoinBX'
Global cryptocurrency exchange Koinbazar has unveiled a new look through its successful rebranding as "KoinBX".
Dubai, United Arab Emirates–(Newsfile Corp. – February 18, 2023) – Global cryptocurrency exchange Koinbazar has unveiled a new look through its its rebranding as most secured project 'KoinBX'. 
Koinbazar Rebranded as 'KoinBX'
To view an enhanced version of this graphic, please visit:
https://images.newsfilecorp.com/files/8717/155332_638bf4c9b46d3a88_001full.jpg
To note, the user experience will remain unchanged. There will be no impact on any of the users' funds as a result of the rebranding. The existing account of the user will also remain unchanged. Also, there will be no changes to deposits and withdrawals.
The KoinBX's main goal is to empower the people with crypto, making KoinBX world's leading cryptocurrency exchange. KoinBX foresee having a user-centric crypto trading platform that can facilitate the capital opportunities required to run a decentralized crypto-based economy. KoinBX team want everyone to be at ease with their cryptocurrency assets through KoinBX's quality, security, and equality at the core.
KoinBX CEO Saravanan Pandian says,
"Through this new look, I ensure that KoinBX remains dedicated to its mission of providing a first-class trading experience for rookies and expert traders."
Saravanan also adds that, if users are beginners, without any trading experience, KoinBX offers user-friendly intuitive trade panel that has live market trends and a clear order book.
KoinBX is an innovative project that successfully overcomes three of the most pressing challenges in the crypto industry: complexity, liquidity, and security. To ensure that users' data and funds remain safe, the system is integrated with multiple security protocols.
This allows for well-timed order execution from an efficient auto-matching engine in a highly liquid market, making trading with Indian rupees simpler and more productive.
In addition to these measures, KoinBX also takes extra steps to secure its platform by performing frequent simulated and manual penetration testing.
All user accounts are also further protected by two-step verification, SSL encryption, anti-phishing codes, and other industry standard safety measures. These safeguards make KoinBX one of the most secure exchanges available today.
Additionally, KoinBX's official website will always begin with https:// and contain "koinbx.com."
About KoinBX
KoinBX is an ever-growing global cryptocurrency exchange where traders can Buy, Sell, and trade cryptocurrencies in an authentic, reliable, and encrypted class of system.
Trade Now: KoinBX.com.
For more information and updates, please visit:
Website
Twitter
Telegram
LinkedIn
Contact:
Ananthi Reeta 
[email protected]
To view the source version of this press release, please visit https://www.newsfilecorp.com/release/155332