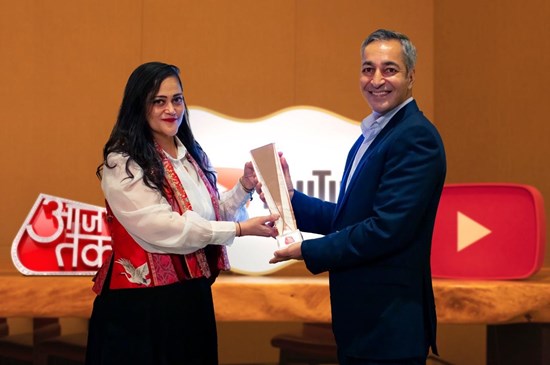 Aaj Tak is Pleased to Announce Significant YouTube Milestone
AajTak becomes the first news YouTube channel in the world to cross 50 million subscribers.
New Delhi, India–(Newsfile Corp. – February 12, 2023) – Over the past two decades, news channel AajTak has become a household brand in India. Recently, the company achieved a significant milestone by becoming the first news YouTube channel globally to cross 50 million subscribers.
The achievement was celebrated in a meeting between Ms. Kalli Purie, Vice Chairperson of India Today Group, and Mr. Gautam Anand, Managing Director of APAC – YouTube, in Singapore. The new development record milestone comes just three years after crossing 10 million subscribers in 2019.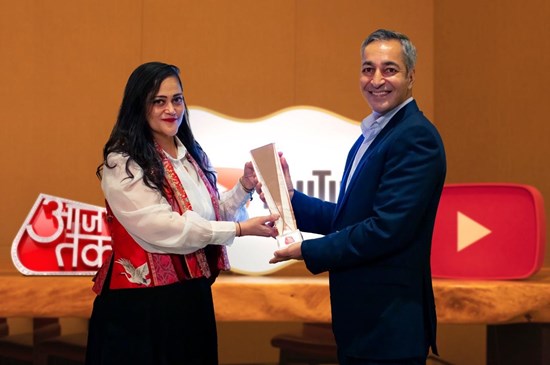 Kalli Purie, Vice Chairperson – India Today Group with Gautam Anand, Managing Director of APAC (Asia and Pacific) – YouTube
To view an enhanced version of this graphic, please visit:
https://images.newsfilecorp.com/files/8703/154247_69f04616649b8967_001full.jpg
YouTube's Chief Executive Officer and Chief Product Officer, both congratulated the AajTak team."50M subscribers- what an incredible milestone for AajTak and its news team", tweeted Susan Wojcicki, CEO, YouTube. Neal Mohan, CPO, YouTube, in his tweet said, "Congratulations, AajTak and team on becoming the first news channel on YouTube to cross 50M subscribers".
AajTak's digital journey began in 2009 with the launch of its YouTube channel. Since then, the channel has gained massive popularity, leading to its Diamond play button from YouTube in 2019 for reaching 10 million subscribers. In just three years, AajTak has now become the first news channel to reach 50 million subscribers on YouTube.
The channel's success can be attributed to its constant experimentation with new formats such as Shorts, investment in its community page, and a focus on breaking stories that appeals to a wide audience. AajTak has also adapted its offerings to meet the changing needs of consumers with the introduction of Shorts and a focus on live streams. Ms. Purie quipped to Mr. Anand in recent meetup following the achievement of the company.
"Trust has always been the foundation for audience engagement at AajTak. It's no different with our YouTube channel, but on a much wider scale with hundreds of videos getting uploaded every day. We place equal emphasis on having new audiences discover our channel while ensuring loyal viewers revisit and invest in figuring out what works on YouTube – whether this is a nuanced understanding of thumbnails or producing hero content frequently."
She further added, "AajTak is no longer just a news channel, it is a movement. We are no longer confined to being a news channel. We are present across the web including YouTube, Facebook Instagram, App and Twitter, Koo etc."
In conclusion, this achievement is a testament to AajTak's refined channel strategy and its ability to engage with a wider audience through compelling storytelling tailored to individual platforms. YouTube has been at the forefront of India's mobile revolution, powering the content and creator ecosystem, and propelling the massive growth of video streaming in the country.
About the Company
AajTak is an Indian Hindi-language news channel, owned by TV Today Network, part of the Living Media group. Launched in December 2000, it became the first complete Hindi news channel in India to be broadcast 24 hours. AajTak is known for its wide reach, with a viewership of 56% among news channels, and has a reach of 3 crore households. The AajTak News conglomerate now has the unique distinction of riding its success of over two decades in traditional platforms over to the social and digital universe too. With a universe of leading products around it, the brand now is galloping towards 100 million with a variety of offerings including AajTak channel, AajTak App, AajTak.in, AajTak Bangla and AT2.
Contact
Name: Vivek Malhotra
Company: AajTak, New Delhi, India
Email: [email protected]
Website: https://www.aajtak.in/
To view the source version of this press release, please visit https://www.newsfilecorp.com/release/154247