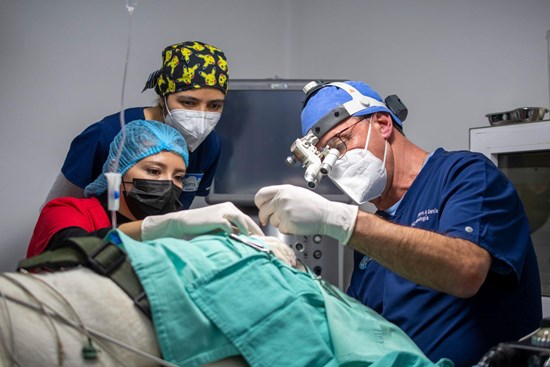 Revolutionizing Veterinary Ophthalmology Education: VOFTW Launches Groundbreaking Course on New Canvas Platform
Mexico City, Mexico–(Newsfile Corp. – May 24, 2023) – Veterinary Ophthalmology For The World (VOFTW), a leading provider of veterinary education, is set to transform the field of veterinary ophthalmology with the launch of its groundbreaking course for the year 2023.
Veterinary Ophthalmology Education, led by Dr. Gustavo Adolfo Garcia
Dr. Gustavo Adolfo Garcia, a distinguished ACVO Veterinary Ophthalmologist from Mexico, will spearhead this initiative, hosted on the newly developed Canvas platform. This platform offers an interactive and user-friendly interface that provides 24/7 access to valuable veterinary ophthalmology content.
Dr. Garcia's course is designed to cater to the growing demand of veterinary ophthalmology and is expected to make significant contributions to the industry. Canvas platform's expansion ensures that the course will soon be available in English and Portuguese, specifically targeting the Brazilian and American/Canadian markets.
"I am thrilled to introduce this innovative course on veterinary ophthalmology in collaboration with the Canvas platform," said Dr. Gustavo Adolfo Garcia. "We aim to provide an accessible and enriching learning experience for veterinary professionals worldwide. By expanding the course to the Brazilian and American/Canadian markets, we hope to make a significant impact on the global veterinary community."
The course on veterinary ophthalmology aims to equip participants with the in-depth knowledge and practical skills required to diagnose and treat various eye conditions in animals.
Dr. Garcia adds, "The Canvas platform has gained immense popularity due to its transformative content-based business model. Users can access diverse resources, including lectures, articles, research papers, and discussions, all focused on veterinary ophthalmology. The platform's 24/7 availability ensures that participants can learn at their convenience, accommodating busy schedules and international time zones."
Upon completion of the course, participants will receive a certificate of completion from Dr. Gustavo Adolfo Garcia, validating their newly acquired expertise in veterinary ophthalmology. This certification will undoubtedly enhance their professional profiles and open doors to exciting career opportunities.
To learn more about VOFTW and Dr. Gustavo Adolfo Garcia's veterinary ophthalmology course, interested individuals can visit the official website at www.voftw.com.
About VOFTW
VOFTW is a leading provider of veterinary education specializing in ophthalmology. They offer comprehensive courses and resources to veterinary professionals and enthusiasts, aiming to enhance their knowledge and skills in the field. With a commitment to innovation and excellence, VOFTW is dedicated to advancing veterinary ophthalmology and improving animal eye health globally.
Contact Information
Name: Dr. Ana Laura Tapia
Email: [email protected]
Phone: +52 55 7938 8038
To view the source version of this press release, please visit https://www.newsfilecorp.com/release/167071