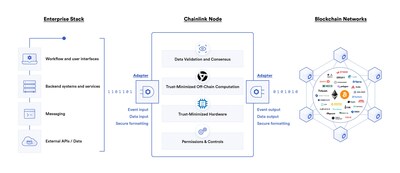 Chainlink Labs and PwC Germany Announce Strategic Joint Business Relationship To Accelerate Enterprise Blockchain Adoption
PwC to Become a Technology Integration & Development Partner with Chainlink Labs
SAN FRANCISCO, March 22, 2023 /PRNewswire/ — Chainlink Labs, a developer of Chainlink, the industry-leading Web3 services platform today announced that it has entered into a strategic joint business relationship with PwC Germany to help accelerate enterprise blockchain adoption.
In this collaboration, Chainlink Labs will help empower companies working with PwC Germany that want to interface with the blockchain economy but lack the expertise to develop smart contracts and operate node infrastructure. PwC adds its strong technical expertise and regulatory understanding as a lever to help customers to develop compliant and secure smart contracts and operate infrastructure. Supported by the expertise of both organizations, enterprises will be assisted in developing bespoke blockchain solutions that harness the power of Chainlink middleware.
Blockchains and smart contracts are poised to fundamentally reshape global industries. However, enterprise blockchain adoption has historically been hindered by technical hurdles such as a lack of secure connectivity between enterprise systems and blockchains and limited interoperability between various on-chain networks. As the market-leading blockchain middleware for the entire Web3 ecosystem, Chainlink helps reduce the complexity of blockchain technology for enterprises, helping them unlock its potential for generating business productivity and profitability.
PwC Germany has been involved with blockchain technology through developing in-house blockchain solutions such as Blockchain Explorer and Transaction Analyzer – BETA, Tokenization Framework, Smart Contract Formal Verification Framework, Digital Asset Valuation Model and Travel Rule Integration. They also provide an array of services such as technology assessment and strategy, ecosystem management, technology consulting, and more. The organization's recent report "Time for Trust" further highlights how blockchain technology has the potential to bring fundamental changes to the corporate world, to economic processes, and to society as a whole.
"We're pleased to enter into a strategic partnership with Chainlink Labs as integration & development partner to help accelerate the enterprise adoption of blockchain technology" said Dimitri Gross, Technology Interest Group Lead for Digital Assets and Crypto at PwC Germany. "PwC Germany and Chainlink Labs aim to help accelerate enterprise adoption of blockchain technology in key enterprise sectors such as capital markets, ushering in a new era of transactional security, transparency, and efficiency. We are excited to empower businesses with the knowledge, integrations, and solutions they need to seamlessly and securely interface with the growing blockchain economy."
"We're excited to support PwC Germany through this strategic collaboration, which will help enterprises securely connect their existing systems to all major blockchain networks," stated William Herkelrath, managing director of business development for Chainlink Labs. "By interacting with the blockchain economy through Chainlink, enterprises can begin realizing the transformative power of smart contracts and blockchain oracles."
About Chainlink
Chainlink is the industry-standard Web3 services platform that has enabled trillions of dollars in transaction volume across DeFi, insurance, gaming, NFTs, and other major industries. As the leading decentralized oracle network, Chainlink enables developers to build feature-rich Web3 applications with seamless access to real-world data and off-chain computation across any blockchain and provides global enterprises with a universal gateway to all blockchains.
Learn more about Chainlink by visiting chain.link or reading the developer documentation at docs.chain.link. To discuss an integration, reach out to an expert.
About PwC Germany
Build trust in society, solve important problems.
When it comes to auditing and advisory, PwC supports clients of all industry fields to reach their goals. We advise corporations as well as family-owned companies, industry- and service companies, global players and local heroes, the public sector, organisations and NGOs. With our know-how and our expertise, around 600 partners and more than 13,000 experts in 21 locations in Germany support our clients in terms of finding solutions for complex questions in a world changing rapidly – in line with our purpose statement "Build trust in society, solve important problems".
View original content to download multimedia:https://www.prnewswire.com/news-releases/chainlink-labs-and-pwc-germany-announce-strategic-joint-business-relationship-to-accelerate-enterprise-blockchain-adoption-301778026.html
SOURCE Chainlink Labs