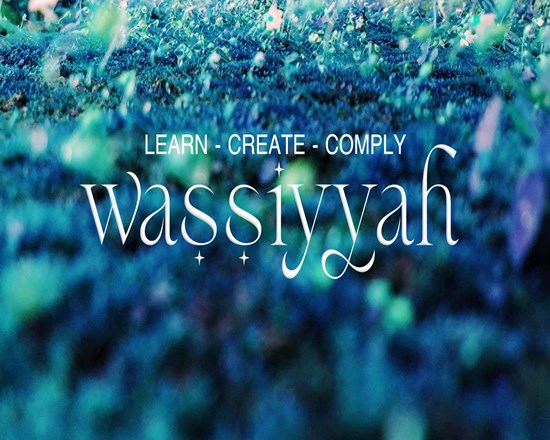 Wassiyyah Brings Unique Estate Planning Solutions To The Worldwide Community
Wassiyyah's goal is to inspire and help people with estate planning needs that are not limited to wealth but include preserving and protecting efforts, relationships, loved ones, progeny, medical, and end-of-life care.
Ft McMurray, Alberta–(Newsfile Corp. – January 2, 2023) – Wassiyyah, has worked for years to learn the dynamics and challenges of estate planning. Delivering service that meets the optimum goal is Wassiyyah's priority. Estate planning is complex, and most people feel nervous, but Wassiyyah made it easy for the average person.
Wassiyyah
Aside from estate planning needs, Wassiyyah's exclusive database helps educate customers about the importance of estate planning. Wassiyyah takes the ultimate care regarding compliance, whether related to values, wishes, faith, or legality.
Most services are limited geographically or in the scope of service, but Wassiyyah offers products to meet worldwide needs. Wassiyyah upheld the objective of the customer's needs. Wassiyyah's estate plans are creative to meet current needs and future needs.
The Wassiyyah's estate planning service enables people to fulfill their debt obligations and wishes and provides solid protections to inheritors by accomplishing inheritance duties not limited to moral, legal, and religious.
Inheritance tax planning is a crucial part of estate planning. Usually, the estate plans offered by Wassiyyah have in-built tax efficiency, which gives the clients an advantage in the long term.
Estate planning has three bottlenecks: Cost, time, and expertise. The affordability and availability of expertise build a huge wall between people and their estate planning goals. Wassiyyah is the service to bridge this gap by allowing people to create their estate planning without spending much money and making it super easy for people who do not require special skills to create estate plans on Wassiyyah. The Estate planning gate closes as soon as a mental disability or death, which is unpredictable, so time is crucial for estate planning.
Wassiyyah offers complete estate planning solutions for the community worldwide, and some of the products are below.
Last Wills: Last Wills for a family and an individual customized to meet legal and faith compliance.
Trusts: Family and individual Trust specific to the country.
Pour-over Wills: Any assets left out can be covered under Pour-Over Wills, and so, a great backup estate plan.
Living Wills: Wassiyyah offers country and jurisdiction (i.e., state, province, or territory) specific Living Wills or Advance medical directives.
Power of Attorney: Wassiyyah offers country and jurisdiction (i.e., state, province, or territory) specific Power of Attorney for Property, Healthcare, and Inheritance.
Letter of Wishes: This is no binding letter that an individual can express his or her wishes. Wassiyyah offers a detailed Letter of Wishes that can universally fit.
Deed of Gift or Hiba: For wealthy people, a Deed of Gift makes one of the most important estate plans to reduce overall tax implications. Wassiyyah offers faith and legally compliant solutions.
Inheritance certificates: The certificate summarizes inheritance shares and provides instructions to executors and trustees while handling probate and settlements.
Executor Handy kit: This is a free kit from a Premium membership, allowing people to save legal costs and smooth administrations for executors and trustees.
Additionally, Wassiyyah's lifetime Premium membership has many benefits, including allowing members to create unlimited estate plans, academy access for learning, premium blogs, articles, videos, and much more to accomplish estate planning goals.
Get many free eBooks, including Beginner's Guide to estate planning, by visiting: https://www.wassiyyah.com/join
ABOUT WASSIYYAH
Wassiyyah is on a mission to provide families with a better way to plan for the future. The platform makes estate planning simple, affordable, and accessible by providing a secure way for people to set up their plans. They have modernized estate planning with a design-first approach layered on top of an incredibly easy-to-use interface and all that is without losing the comfort of home.
Media Contact:
Company Name: Wassiyyah
Contact Person: Siraj Ahmad
Email: [email protected]
Country: Canada
Website: https://www.wassiyyah.com/
To view the source version of this press release, please visit https://www.newsfilecorp.com/release/150033